"Read it again, please!"
Whether you're a new or established author, those are the words you most want to hear. After all, you wrote your book to delight children. You want to make them giggle. You want to touch their hearts. You hope that your book will become a well-loved classic. It starts, of course, with writing a compelling story that appeals to children and hopefully, adults too.
Don't underestimate the importance of quality printing.
From vivid colors to durable construction to just-right sizing, taking your story from a fabulous idea to a children's book is hard and strategic work. That's why you need top quality children's book printing services.
Get a fast & free quote for your children's book
The MCRL team is committed to printing quality books with the least environmental impact possible. We're fans of 100% recycled Eska®board covers, tree-free bamboo paper stock and soy-based eco-friendly inks because they are lead-free and phthalate-free. Producing books safe for tiny hands and the environment is our number one priority.
Each year MCRL plants 10,000 trees through Trees for the Future. Ask us about printing a Trees for the Future badge on the copyright page of your next book. This badge demonstrates that you (and your printer) care about helping people and the planet.
Independent authors and publishers choose MCRL as their printer of choice because of our:
Quality Standards
Personal Service
Custom Features (such as spot finishes, foils, glitter, embossing and more)
… at competitive prices.
Children's Book FAQs
Click HERE for the most frequently asked questions about children's book printing.
When Susan and I discovered the environmentally conscious MCRL we were over-the-moon thrilled. Planet friendly? Check. Then we talked with the MCRL team. Patient and kind? Check. (When you're new to book publishing, like us, that's key.) Phenomenal quality? Check.

Our illustrated books knocked the socks off a storied independent bookseller based in New York City and Philadelphia which called them "simply top tier."

In fact, they liked our books so much they did an entire window display. I cannot sing the praises of MCRL loudly enough! SEE WHY…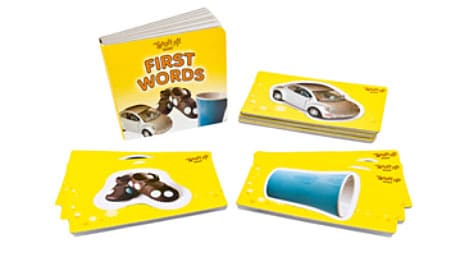 "We have worked with MCRL since 2007 and will continue to do so. Their quality has always been exceptional. We supply large retailers like Target, Amazon, ToysRUs and more and they have always delivered on a timely basis."
MCRL has helped hundreds of children's authors and publishers print their hardcover, softcover and board books from start to finish. With printing experts in North America and Asia, we have a hands-on approach, giving you superior customer service, excellent print quality, and competitive pricing.
Get a fast & free quote for your children's book
New to Self-Publishing?
You're a good writer. MCRL is a good offset printer. Sheri and Brooke are really good self-publishing resources.
Learn from our client Sheri Fink!
Sheri Fink is a world-famous, best-selling children's book author. She's also an independent publisher and has been a loyal MCRL customer for ten years. We reached out to Sheri as many of our clients are new independent publishers looking for resources and advice on the ins and outs of creating books and building their business. Check out Sheri's tips and resources.
Brooke Talks Books
Brooke Vitale spent nearly twenty years as a children's book editor in NYC, working with prominent publishing companies including Penguin Books for Young Readers and Disney Publishing.
Brooke has written more than a hundred books, including The Magic Is in You, The Goonies: An Illustrated Classic, and H Is for Halloween.
Brooke knows how to get children's books ready for print. Get her step-by-step guide.
Children's Book Printing 101 Guide
Print beautiful children's books
Are you an independent author or self-publisher looking for resources and advice on the ins and outs of printing your children's book? Help is here! This simple guide outlines 5 important factors when printing your book.
To download PDF guide fill out short form below.