A Quick Explainer | Offset Printing vs Digital Printing
We're often asked about the differences between offset printing and digital printing. There are pros and cons to both. Review the short overviews below to determine which type of printing is best for your project.
Offset Printers (like MCRL)
Digital Printers
The Printing Press

Huge commercial press meant for medium to large print runs and bulk production

Small press. Suitable for low volume jobs

Printing Quality and Color Matching

Superior image quality, with high-grade detail and colour fidelity.

Color is more consistent throughout the run.

Standard ink with less colour fidelity. May not offer top quality printing.

Color is not as consistent throughout the run.
What's More Economical? Offset or Digital POD
Offset printing provides a higher profit margin per unit than digital printers for orders of 300+.
As quantity increases, the unit price drops and your profit margins increase.
Digital printing is less expensive than offset printing for onesies OR when printing a small quantity <250.
Higher quantities don't impact price as significantly so profit margins are lower.
Here's what we mean…
Digital Printing
Offset Printing

10

Copies

$

$

$

$

$

$

$

$

50

Copies

$

$

$

$

$

$

$

300

Copies

$

$

$

$

$

$

$

500

Copies

$

$

$

$

$

$

$

1000

Copies

$

$

$

$

$

$

$
Is offset printing the best choice for your project?
Printing with MCRL
When you print with MCRL, you're getting the best of both worlds! Real people in North America who truly care about your project. And an overseas offset printing press for the most competitive pricing.
Since we print books, planners, journals and packaging on our offset presses, we're often asked about timelines. The length of time to print your project really depends on specifications and the shipping environment. Before you place your order, we can give you an estimated timeline.
MCRL's 9 Step Printing Process
Printing with MCRL involves a systematic 9 step process.
Step 1: Prepare Your Files
The first step in MCRL's offset printing process involves you submitting print-ready files.
Please use our artwork guidelines. These guidelines are industry standard and will ensure your files have been saved correctly.
Next Carol, our VP of Print Production, will compare your print-ready files to the specifications on your quote. During this pre-press stage, we will let you know if there are any problems or inconsistencies that can't be fixed by our pre-press team.
Step 2: Review & Approve Your Bound Proof
We know how important it is to touch and feel a physical copy of your project.
Once your files are "press ready", a physical bound proof will be created using the supplied artwork. It generally takes about two weeks from the time we receive print-ready files. The proof will match materials, size, colour, binding, finishing and assembly specifications on the signed quote, as close as possible.
There are a number of differences between the bound proof and the final product. We ask that you point out differences, provide complete feedback and submit revisions BEFORE you approve the bound proof.
Step 3: Start Pre-Press
Our team has an eagle eye and catches 99.9% of all technical printing issues (non-creative issues). However, we do require your final approval on the bound proof to guarantee satisfaction.
Once the bound proof is approved, our software prepares the files for print.
MCRL uses a special software that translates files into a format and layout that can be engraved onto printing plates for the offset press. This ensures your project is printed and finished properly and efficiently.
Step 4: Press Setup
Essentially each step in offset printing involves the transfer of images (text and art) from one material onto the next.
Images are digitally transferred onto a set of printing plates.
The plates collect ink to transfer images onto a rubber blanket.
The rubber blanket transfers images onto paper.
This process requires that the offset press be cleaned after each print run. All printing plates must be uninstalled, and all cylinders, fountains, and rollers cleaned to ensure the next parent sheet has a fresh setup.
Each time a new parent sheet (new project) needs printing, four new plates must be mounted into the press.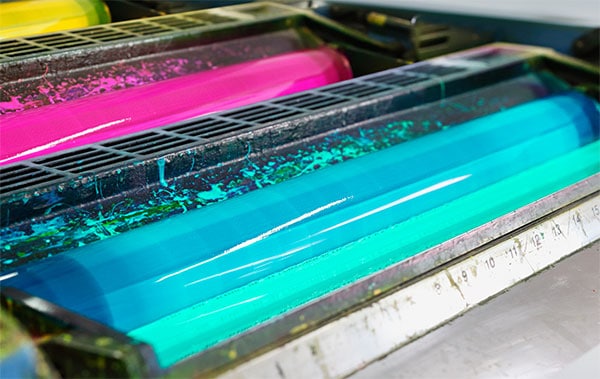 The cost and time involved in set up is what makes offset printing impractical for small runs.
Step 5: Printing Begins!
Offset printing involves feeding "parent sheets" through a press. Parent sheets are large pre-cut pieces of paper, typically designed to fit 8–16 pages on each side. Parent Sheets can be either coated (gloss or matte finish) or uncoated (the paper primarily used for planners/journals so the ink won't smudge).
Parent sheets come in standard width x height (i.e.: 19" x 25", 25" x 38").
One of the major factors in the cost of a printing project is how many parent sheets will be used.
The most economical size for printed books, journals and planners have the least amount of waste. Page counts in multiples of 16 and the following sizes are most cost-effective:
8.5″ x 11″
6″ x 9″
9″ x 12″
Click here for industry standard book sizes and how to save money when printing.
Step 6: Monitoring & Quality Checks
The quality of the final product depends on a number of factors – most importantly, a certified team of press operators and quality control specialists.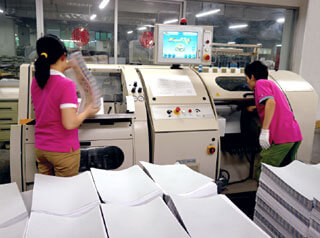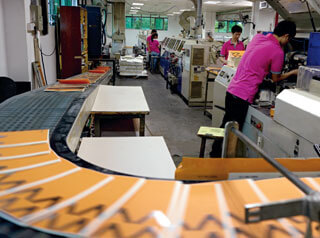 MCRL's press operators regularly cross-reference printed sheets with the approved bound proof. Their job is to confirm alignment and colour accuracy AND to flag any defects early on to avoid waste.
Sheet-fed offset printing quality can't be beat, but as with any mechanical process…printing, trimming, and binding all exhibit miniscule variances (usually under 2mm or the thickness of a nickel) from piece to piece.
The most obvious and common manufacturing variances can be seen with specialty options such as embossing, debossing, hot foil stamping, and spot UV. It is difficult to get a spot UV placed exactly on top of your cover title without some pieces showing a very slight variance. It's not extremely noticeable, but next time you are in a bookstore take a close look at a few of the titles.
Step 7: Post-Press
Post-press is everything that takes place after your pages have been printed. Press sheets are folded, cut, and bound into your final project before they are shipped to your doorstep.
Board books and card games get trimmed, smoothed, and rounded; game boxes are printed and constructed, and then all the components are assembled and packaged to create your final product. A lot of things happen during the post-press stage.
Finishing
Finishes can be gloss (high-shine) or matte (low-shine), and come in two distinct types: varnish and lamination. We recommend applying a protective finish as it adds durability and minimizes marking.
Binding
Depending on which binding method you chose, binding can be as simple as adding a couple of staples. Or a complex process involving sewing machines, gluing machines, hardcover cases, and more. There are many types of binding.
Step 8: Quality Control
Our team personally vets, audits and approves both our products and facilities for compliance. These extensive checks and our environmental focus ensure your products are produced ethically and with the highest quality and safety standards in the industry.
Having peace of mind is a huge benefit when printing with MCRL.
Step 9: Shipping
Now it's time to get those books to your doorstep!! MCRL typically quotes based on sea delivery from China.
It's important when evaluating multiple quotes to consider the shipping, customs and any additional fees. MCRL provides an ALL IN QUOTE. This means the per unit cost we provide in your quote includes everything. No surprise invoices. Not many printers provide an all-in quote. Make sure you are comparing apples to apples.
Our team will provide you with an expected delivery date for your project. However, unforeseen things such as weather, port conditions, and random customs inspections prevent us from guaranteeing an exact delivery date for standard shipments. For expedited shipments, we use an upgraded class of shipping to speed up delivery if deadlines are tight (for an additional fee).