Offset Printing vs POD Printing
Which is better for printing Planners and Journals?
Scroll through Instagram and you'll see gorgeous custom printed planners with large followings and sales.
In fact, the global market size for printed planners is expected to grow a whopping 7% between 2021-2025 while the demand for other stationery products declines.
The best selling top Planners are printed with an offset press BUT if this is your first time printing a custom Planner or Journal to sell, you have options. You can have your planner digitally printed online, at a local POD printer OR with an offset printer (like MCRL).
With 10+ pages of Google search results, how do you choose a printer?
This blog aims to help you make the best decision for your planner or journal business with a…
Quick explanation of offset printing vs. digital printing
Cost comparison of offset vs. digitally printing a planner
Summary chart of key features between offset printing and digitally printing your Planner or Journal (download PDF)
First Off …
A Quick Explainer | Offset Printing vs Digital Printing
Offset Printers (like MCRL)
Digital Printers
The Printing Press

Huge commercial press meant for medium to large print runs and bulk production

Small press. Suitable for low volume jobs

Printing Quality and Color Matching

Superior image quality, with high-grade detail and colour fidelity.

Color is more consistent throughout the run.

Standard ink with less colour fidelity. May not offer top quality printing.

Color is not as consistent throughout the run.
What's More Economical? Offset or Digital POD
Offset printing provides a higher profit margin per Planner than digital printers for orders of 300+.
As quantity increases, the unit price drops and your profit margins increase.
Digital printing is less expensive than offset printing for onesies OR when printing a small quantity. Digital printing is ideal for printing as needed (hence the name Print-on-Demand).
Higher quantities don't impact price as significantly so profit margins are lower.
Here's what we mean…
Digital Printing
Offset Printing

10

Planners/Journals

$

$

$

$

$

$

$

$

50

Planners/Journals

$

$

$

$

$

$

$

300

Planners/Journals

$

$

$

$

$

$

$

500

Planners/Journals

$

$

$

$

$

$

$

1000

Planners/Journals

$

$

$

$

$

$

$
Real Life Example
Let's look at the cost to produce a 7 x 9 spiral or wire-o, hardcover laminated Planner with gold foil stamping on the cover and 180 pages of ivory B&W paper and color ribbon marker.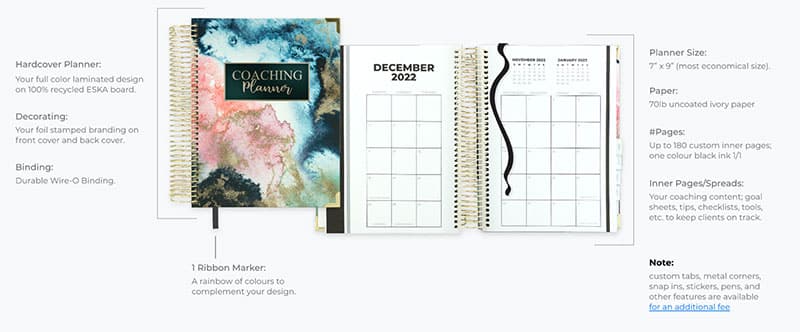 Click image to enlarge
MCRL Printing Price
300 Planners = $14.75/Planner
500 Planners = $9.80/Planner
(includes physical proof, duties and delivery to door)
A Popular Digital Printer's Pricing
1-300 Planners = $20.60/Planner
Closest specs are A5 (5 x 8 standard sizes only), spiral, hardcover laminated Planner with gold foil stamping on cover and 160 pages of ivory B&W paper. No ribbon.
MCRL saves you $1755+
(with more custom options and human help)
Request a MCRL quote
Of course, price is only one factor to consider
Offset Printing vs Digital POD Printing
Most people can't tell the difference between a really good digitally printed planner and an offset printed planner. So the decision is driven by your business needs and financial goals.
The comparison chart below simplifies the factors to consider when weighing whether to go the Offset Printing route (MCRL) or Digitally Printing your custom Journal or Planner.
Offset Printing
Digital POD
QUANTITY

300 copies +

1-200 copies

PRINT QUALITY and COLOR MATCHING

Excellent Color Matching

Matches closest to Pantone® Matching System because offset printers can mix custom color inks.

Average Color Matching

Digital printing gives an approximation of the Pantone® Matching System color. If you need exact matching, offset is better.

CUSTOMIZATION

Full Customization

Many decorating abilities and unique options ie linen and RPET covers, custom tab sheets, paper stocks, custom packaging, kitting and labelling abilities

Limited Options

MATERIALS & ECO-FRIENDLINESS

Many Options

Offset printers can print on almost any material; metal, heavy stock paper, stickers, linen, leather, cork, etc.

MCRL offers many eco-friendly materials including 100% recycled Eska®board, RPET covers, soy ink, FSC and Bamboo paper

Some Options

Digital POD printers offer a limited selection of cover materials, paper and add-ons.

Few eco-friendly choices

PHYSICAL PROOF

YES

MCRL for example, provides a physical proof before printing the final Planner/Journal on an offset press. Included in the quoted price.

SOME DO…

Virtual PDFs provided. Some vendors provide physical printed samples to proof. Some charge for this.

PERSONAL CARE & DESIGN HELP

MCRL offers human help and design assistance

Many have design templates vs graphic design and personal assistance

PROFITABILITY

BEST

Higher profit margins per Planner. You get more for your money

CHALLENGING

Profitability is the biggest challenge with POD
We recommend you get 2-3 quotes before making a final decision.
Key Takeaway: Offset printing gives you more Planners for less $/Planner. Digital Printing gives you fewer planners faster but you pay more/Planner. Only you can decide the best option for your business and budget.
You don't have to know it all!
You just need a printing partner you can rely on.
MCRL Overseas Group has been helping publishers and entrepreneurs print beautiful, awe-inspiring custom journals and planners since 2004.
You're guaranteed an "all in" competitively priced quote (no surprise fees) and peace of mind knowing our expert team is managing your print project. MCRL prints with recycled Eska®board, soy ink, FSC and Tree-free Paper. Plus we plant 10,000 trees/year through Trees for the Future.
Contact Us (at any stage of your project) and we'll guide you through the printing process. Request an all-in printing quote here.