Print Eco-Friendly Journals and Planners
Affordable. Sustainable. Beautiful.
Looking to print vegan, sustainable, plastic-free or recycled Journals and Planners? Here are three ways MCRL ensures your eco-friendly Journals and Planners are printed with the lowest carbon footprint possible.
1. Eska Eska Read All About It
MCRL Overseas Group uses Eska®board, the gold standard in recycling and solid board construction. For over 100 years, ESKA has championed the recycled paper movement with one of the smallest carbon footprints in the industry.
Zero waste goal
Eska®board is made from 100% recycled raw materials. This unique green production process is designed so material that cannot be recycled in the production process is transformed to steam which fuels Eska's paper and board production processes.
Not only is Eska®board ethically sourced, eco-friendly, recycled and recyclable… Eska®board lays flat and stays flat. Made responsibly without sacrificing quality.
2. FSC and Bamboo Paper Options
MCRL Overseas Group encourages clients to print on Forest Stewardship Council (FSC) Certified Paper stock. FSC certification means materials are harvested and manufactured in a sustainable manner from responsibly managed forests, meeting the highest environmental and social standards.
In an effort to reduce the demand for tree-based paper, MCRL also offers Bamboo paper stock. Bamboo paper is being used increasingly by consumers because it is harvested much faster than trees – one to five years for initial harvesting with the stalks repeatedly harvested for 20-50 years thereafter. Here are 8 more reasons to consider Bamboo paper for your next print project.
3. Soy Ink – Safe, Sustainable and Soy Much More
MCRL Overseas Group only works with suppliers who adhere to the strict FDA requirements for safety in our custom gift boxes and book, journal and planner printing. We highly recommend clients use soy-based ink. Soy-based ink is safer to humans and the environment PLUS it offers a more vibrant color than phthalate and lead-based inks. Read more benefits of soy ink.
Our Environmental Focus
When you print your eco-friendly Journal or Planner with MCRL Overseas Group, know you are choosing a like-minded printing partner with a strong environmental focus.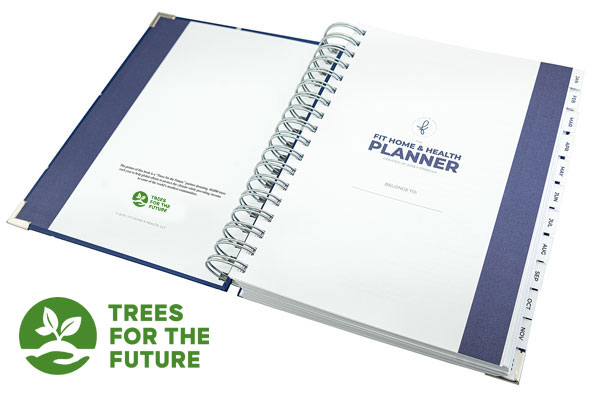 Click to enlarge
MCRL Overseas Group is proud to be a Trees.org sponsor. Each year MCRL plants 10,000 trees in some of the world's poorest communities.
When you print your Journal or Planner with MCRL, we'll include an optional, free Trees.org badge on the copyright page. A sign your printer (and project) is committed to helping people and the planet. Learn more about our Trees.org partnership.
As always, contact us with any questions or request a quote to print your next book, custom journal or planner.