How Much Can You Earn Selling Journals?
It all starts with your
profit margin.
Sales and demand for custom journals continues to grow!
Consumers are hooked on bullet journals, gratitude journals, manifestation journals, productivity journals, travel journals, wellness journals, 5 minute journals…all of them! Journals are a way to tangibly organize thoughts and actions to strategize and meet life's goals.
As a business, you can easily and affordably print niche journals to fill specific market gaps. Or design Journals with trending topics and gorgeous covers that appeal to the mainstream.
Whatever your vibe & tribe, it all starts with your
profit margin.
1. Know your profit margin
Most Journal business owners are looking for at least a 40% profit margin. Our clients typically have a 60+% profit margin. The higher your profit margin, the more money in your pocket.
2. Know what you can charge
It's important to understand what you can realistically charge for your Journal. MCRL's custom Journals typically sell for $30-$35 US. Research the selling price of Journals in your niche and the features customers want.
For example: adding a ribbon is an inexpensive feature customers love that increases your perceived value – and the price you can charge. If you can produce a Journal for a few cents more with features that increase sales & your retail price, why not do it?!
Browse our photo gallery for examples.
3. Calculate your costs
If you are selling a $35 printed Journal with a 40% profit margin, your costs (including a designer, software fees, marketing, ads and other business expenses) can't exceed $21/unit.
How to print a custom Journal affordably?
Printing will be your biggest expense. We recommend getting at least 2 quotes; one from a POD vendor and one from an Offset printer (like MCRL). Click here if you're not sure of the difference.
Make sure your quotes include:
The specifications & materials you want
Shipping
One physical proof
Taxes and duties
NOT all printers include these 4 things so check the small print.
Calculating your profit margin
Once you know all your costs, use Step By Step Business' handy profit margin calculator to determine your margin and profit.
3 ways to reduce printing costs

(and increase your profit margin).
1. Increase your order quantity
Ordering 300+ Journals with an offset printer (like MCRL) will be much less expensive than printing as needed with a POD printer.
Offset printing gives you more Journals for less $/journal. Digital printing gives you fewer Journals but you pay more/journal. Only you can decide the best option to meet your profit and revenue goals.
Here's what we mean…
Digital Printing
Offset Printing

10

Planners/Journals

$

$

$

$

$

$

$

$

50

Planners/Journals

$

$

$

$

$

$

$

300

Planners/Journals

$

$

$

$

$

$

$

500

Planners/Journals

$

$

$

$

$

$

$

1000

Planners/Journals

$

$

$

$

$

$

$
2. Choose the right features
After printing thousands of Journals over the past 10 years. We know the features that sell – and are most economical to print.
Size: 5.5 x 8.5 is THE most affordable size because it wastes the least amount of paper
Paper: 65# paper weight is the most affordable without sacrificing quality
Cover: we use recycled ESKA board because it is eco-friendly, lays flat, stays flat and does not warp.
This comparison chart lists the features and quality differences between Offset & POD.
3. SEE OUR SPECIAL JOURNAL OFFER. Fast Turnaround. Low Minimum Order Quantities.
When you're a first-timer, you don't know what you don't know. We know what specifications are most popular and profitable.
You don't have to know it all!
You just need a printing partner you can rely on.
MCRL Overseas Group has been helping small business owners print beautiful, awe-inspiring custom journals and planners since 2004.
You're guaranteed an "all in" competitively priced quote (no surprise fees) and peace of mind knowing our expert team is managing your printing project. Request an all-in printing quote here.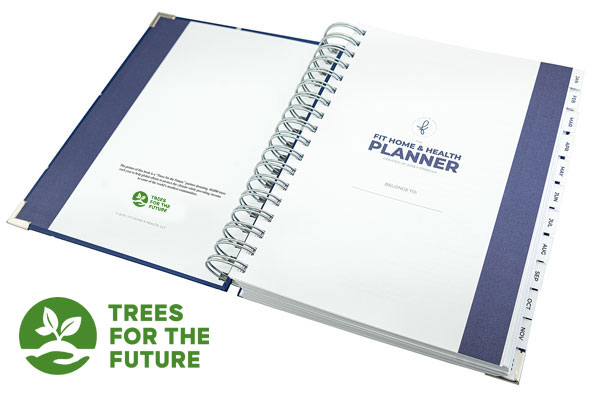 Click to enlarge
Add an Eco-Badge
As a Trees.org sponsor, MCRL plants 10,000 trees every year in some of the world's poorest communities. Choose MCRL and we'll include a free "Trees for the Future" badge in your journal. This badge demonstrates you and your printer care about helping people and the planet.