Stephanie Mcknight
CHAO Travel Journal
Tips to Create A Custom Journal Business
Stephanie McKnight, founder of Tidal Design Studio, created the CHAO Travel Journal with her partner Jimmy as a side gig during the pandemic. One year later, the CHAO Travel Journal is on bookstore shelves! An inspiring story of how to turn your vision into a successful printed product that sells.
The Backstory
Stephanie and Jimmy are an adventurous couple who know how to travel … be it backpacking in SE Asia, scuba diving in Roatán or exploring the Rockies in their own backyard.
When travel screeched to a halt in 2020 they were…
Features of this Eco-Friendly Travel Journal

vegan leather | recycled Eska® board | soy-based ink
(now available at many INDIGO Bookstores)
Cover: The CHAO Travel Journal features a vegan leather cover on recycled Eska® board.
CHAO is heat burnished on the cover making this journal pretty enough for the coffee table, yet durable enough for multiple trips.
The rounded corners and coloured elastic are practical features travelers will appreciate.
Paper: Stephanie chose 65lb internal pages to prevent bleed through when jotting down memories and plans.
Unique Add-On: The custom belly band was added to enhance the brand message (and give great gift appeal)!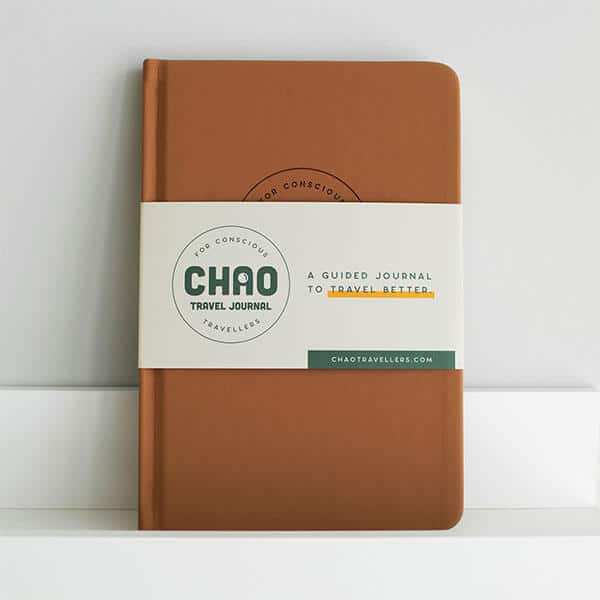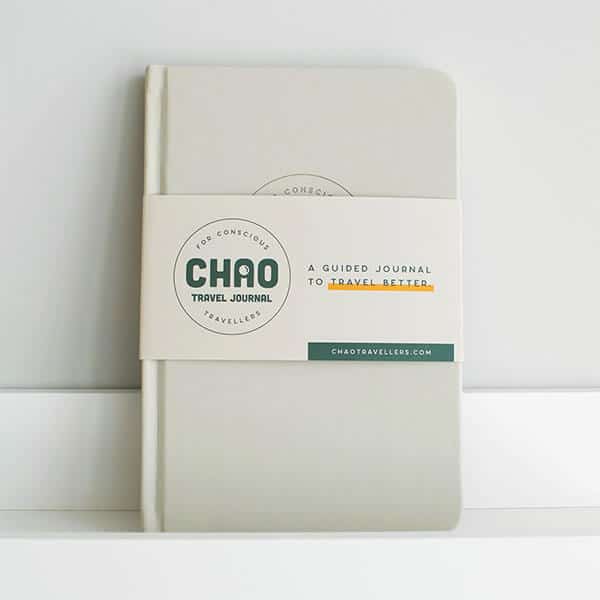 Stephanie is in the unique position of being a professional graphic designer AND female entrepreneur. So we asked for her advice on how to start a niche journal business.
Q: What was most important to you when designing the CHAO Travel Journal?
Stephanie: My target audience's user-experience was the #1 priority for me.
Our journal needed to be easy-to-use and open to interpretation. For example, travel can mean different things to different people. Our prompts and page layouts had to be suitable for all, whether backpacking across the world or camping in their own backyard.
This meant the CHAO Travel Journal had to be inclusive in design and text. I started with a rough draft. Then reviewed through the eyes of my target market. I found it really helped to put myself in other's shoes.
But here's my advice… don't sit on it too long – or opportunity will walk away. Travel re-opening was our push to publish!
Q: What inspired your design?
Stephanie: I got design inspiration from looking at printed journals in bookstores. During the printing process with MCRL, I actually sent Josh pictures to reference so he could see my vision and recommend the best materials. Josh sent me samples I could touch and feel before making final design decisions.
Q: Did your graphic design skills come in handy?
Stephanie: Absolutely. When designing a custom journal, Adobe InDesign is your best friend. If you aren't a graphic designer, hire one.
An experienced graphic designer will save you time and frustration. When I sent Carol our files, they were print-ready-to-go! No back and forth at all.
Q: Tell us about your partnership with TreeEra?
Stephanie: We as a business need & want to do better… in our everyday lives and when we travel.
TreeEra helps us off-set our carbon footprint. We plant one tree for every package we ship.
Having a printing partner with an environmental focus was one of the reasons we chose MCRL to print the CHAO Travel Journal. We like that you plant 10,000 trees/year through Trees.org for the Future.
Q: What's your best small business tip?
Stephanie: We got lucky on this…but consider how your Journal will be shipped when designing it. The Weight, Size, Binding and Packaging affect shipping costs.
Luckily our Journal fits through the regular mail slot which means less expensive shipping costs.
Stephanie's advice for entrepreneurs starting a niche journal business? Go for it! Just start.
I am so glad I stumbled upon MCRL – such a great experience from start to finish! It seemed like the entire MCRL team was involved and committed to our project … and they truly cared.
"No one can do everything,
but everyone can do something"