Journals
Journals are timeless gifts that can be personalized and stylized in so many ways, for so many purposes. Share your vision or examples of journals you love and MCRL Overseas Group will work with you to design a one-of-a-kind journal that is sure to impress (and sell).
Click tabs or pulsing dots to see all the features you can customize.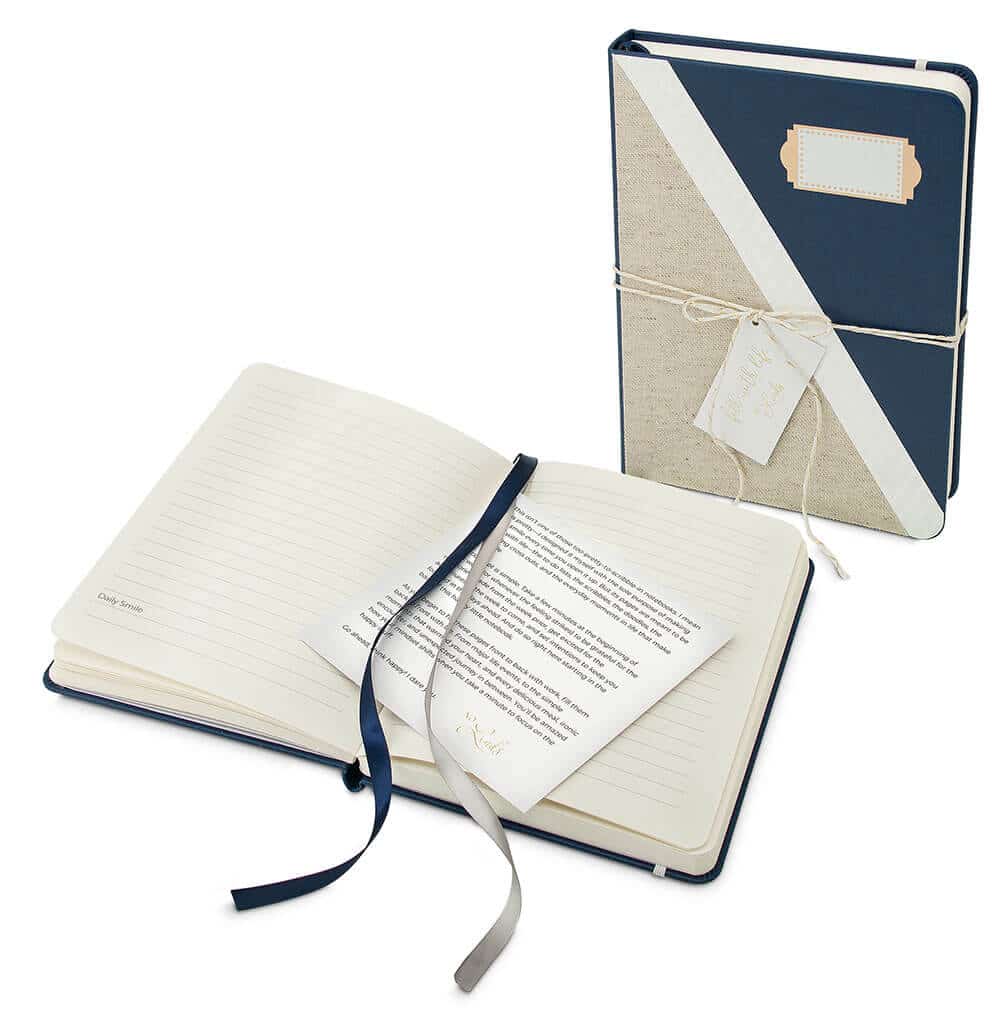 Binding
A sturdy Wire-O or Smyth-sewn binding holds the pages of your Journal together.
Wire-O Binding
Wire-O Binding produces a sophisticated and professional-looking planner. Wire-O Binding is also known as Twin Loop, Double-Loop, Double-O, Duo-Wire, or simply Wire Binding. It is a popular method for joining the pages and cover of a planner.
Wire-O binding comes in many popular colors such as gold, silver, black and copper. Custom colors are also available based on PMS (Pantone) code.
Wire Binding Diameter Options
Smyth-sewn Binding
Many clients choose Smyth-sewn binding for their journals. This is a method of book binding where groups of folded pages are stitched together using binder thread and then pages are sewn together with multiple stiches. If you page through a Smyth-sewn journal, you can see the thread stitches in the center fold.
Smyth-sewn binding is associated with high quality and is extremely durable, able to stand up to years of wear and tear. This binding method is ideal for sketchbooks, planners and journals since the pages lay flat.
Elastic Band
Elastic bands are used on many journals as a stylish embellishment AND a way to keep loose notes safe and secure. Elastic bands can match the color of the Journal or use as an accent color. Elastic band diameter options are:
6 Millimeters (1/4")
9 Millimeters (11/32")
15 Millimeters (19/32")
20 Millimeters (25/32")
Cover
The cover of your Journal is the key selling feature. Journals are where private thoughts and memories are kept and ideas explored. Your cover needs to speak to your audience. There are many different cover textures to choose from. Linen, kraft and leatherette are very popular with designers and buyers.
The style and design of the cover is a blank slate. Covers can be plain, embellished with your branding or printed with a special message. If you have a creative bent, design a cover and we'll bring it to print OR send us a picture of a cover you like and we can replicate it.
Metal Corners
Metal corners add an elegance and additional durability to your Journal. This is an optional feature.
If you like metal corners, MCRL offers various styles and colors in both shiny or matte finished.
Ribbon
The ribbon on a Journal is a delicate feature that allows the user to easily flip to their last entry. A Journal ribbon can be satin, grosgrain or novelty. Each type of ribbon comes in an almost limitless number of colors that adds a touch of class to any journal.
Ribbon swatches
Paper
Choosing Paper for your Journal
There are a number of factors to consider when choosing the right paper for your Journal.
Opacity
A paper's opacity refers to how much ink will show through on the reverse side. Opacity is determined by the weight and finish. If a piece of paper is 100% opaque no ink will show on the reverse side. If a piece of paper is 0% opaque it is transparent.
Paper Weights
MCRL Overseas Group can produce a planner with a variety of different paper weights but the most common paper selected for planners is text paper in 50lb, 65lb or 80lb. The thicker the paper is more opaque.
Tone of the paper
Two tones that are common in journal, white or ivory. They both come with different level of whiteness and ivory tone to choose from.
Paper Finishes
A paper's finish refers to the surface of the paper. Your Journal can have glossy, matte, cockle, laid or a smooth feel with lined or unlined pages.
Most clients choose a bond paper with matte finish for their journals.