4 Great Guided Journals
The practice of daily journaling is helping many people around the world weather these challenging times. There are many benefits to writing down your thoughts and feelings. Studies show journaling helps reduce anxiety and stress, improves productivity, creativity, goal-setting, memory, problem-solving and organization. Even your physical health can benefit from keeping a journal.
There's something to be said for writing down (vs typing) your inner thoughts. Here are four great guided journals we've had the honor of printing for clients.
Mindfulness Journals
For Tween Girls:
"All of Me" Journals
Empowers growing minds, bodies, and souls
We helped Heather create these engaging and meaningful journals with daily activities, journaling pages and inspirational quotes. The gold foil embellishment on the cover adds a fairy tale feel. The "All of Me" Journal is a safe space for girls aged 9-12 to explore their thoughts, feelings, and emotions.
Click to enlarge
Click to enlarge
For Kids:
"Spark Journals"
Cultivates a growth mindset, gratitude & mindfulness
We guided Jenni through her first large overseas printing project. Spark Journals feature a durable hardcover with matte lamination printing many uniquely designed pages. This amazing kids journal is filled with tools to build resilience using engaging designs and age-appropriate activities.
Productivity Journals
For Professionals:
"Elegant Excellence Goals" Journal
A career coach and therapist all in one
Hilary designed this journal to help people focus on their goals and really prioritize what's important. We provided advice on the best paper, binding and other embellishments to ensure this inspiring journal is beautiful and durable to inspire writing daily entries, goals and dreams… at home, work or on the go.
Click to enlarge
Manifestation Journals & Planners
Click to enlarge
For Everyone:
The Aligned Manifestation Planner + Journal
Manifest your goals into reality
As a young girl growing up in a lower income home with immigrant parents, Chelsea Arns knew how to work hard… and dream. She created the Aligned Planner & Journal for ambitious individuals ready to be, do and have anything they set their mind to achieving. And in the process become happier, more self-aware and confident in themselves.
Dreaming of an amazing partner to print your custom Journal or Planner?
MCRL has printed thousands of planners and journals for coaches, entrepreneurs and businesses, big and small. We pride ourselves on quality, human only service and eco-friendly materials.
When you choose MCRL Overseas Group, you get an all-in quote (no surprise fees) and expert project management. Contact us or Request a Quote Today!
Changing Lives Through Trees
MCRL has planted over 36,000 trees as a partner with Trees for the Future. Add this badge to your next planner or journal to show you support helping the climate and communities in need.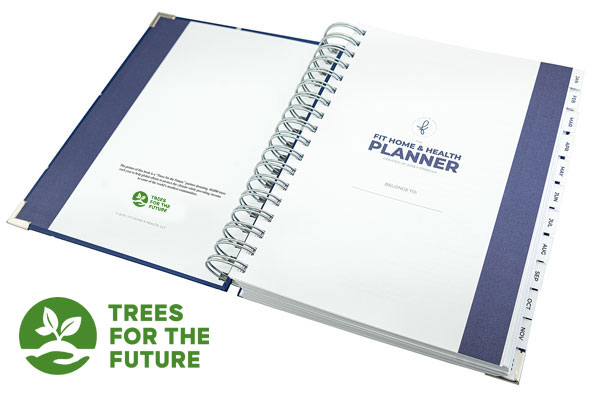 Click to enlarge