Page Count
For offset printing, the page count for hardcover picture books needs to be divisible by 8.  The first inside page of your book is page 1 and starts on the right side, after the inside front cover. For longer books, your page count needs to be divisible by 16.
Page Counting Tips
1 Sheet = 2 Pages (front and back)
Cover Pages = 4 (2 inside and 2 outside covers)
Industry Standards
Picture Books are usually 32 pages (not including cover)
Journals and Planners are a minimum of 80 pages (not including cover)
Board Books are typically 8 to 12 sheets (16 to 24 pages)
TIP: Don't forget to include blank pages in your overall page count
Paper
Environmentally Friendly Paper
MCRL recommends 100% recycled Eska® board for book, journal and planner covers because it's better for the earth PLUS more resistant to warping.
MCRL offers Tree-free Bamboo paper OR Forest Stewardship Council (FSC) paper.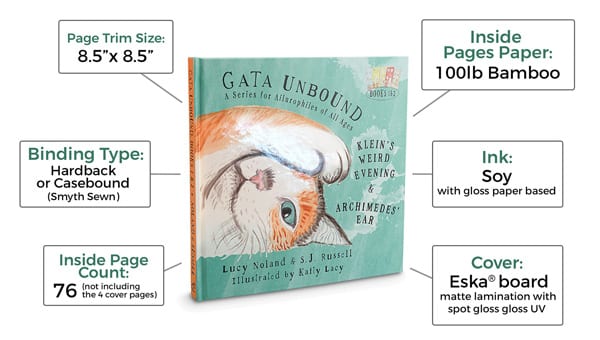 Click image to enlarge
PROMOTE Your Environmental Printing Choices
Include a description of your book specifications on your copyright page. For example: "This book is printed on tree-free Bamboo paper with soy ink in China. Cover is made from 100% recycled Eska board".
Add the TREES logo in your artwork.
Print your project on FSC approved paper and include the FSC certified logo in your artwork.
Mention eco-friendly printing choices in your online product description. For example, "Our printing partner donates 10,000 trees each year to Trees for the Future."
Paper types
Paper Thickness/Paper Weight
Paper weight is used to describe the thickness of paper stock.
There are generally two types of paper used in print production; Text Stock and Cover Stock.
Units of measurement
Pound (lb.) is used to describe text paper primarily.
Point (pt.) refers to cover stock and card stock. One point is equal to 1/1000 (.001) inches. For example, a 10pt. cover stock will measure 0.010 inches thick.
Text Stock
Text stock can be uncoated offset stock or coated stock and is usually used for internal pages.
Offset stock paper is uncoated. It is typically used in our printed planners and journals as it doesn't smudge. Generally available in 65-100lb. weights.
Coated paper shows off illustrations and heavy graphics (great for children's books, magazines and photography books). We generally only use 80lb. or 100lb. coated text stock.
Cover Stock
Cover stock is used for most book, journal and planner covers. Cover stock is heavier than text stock but still bendable.
The most common cover stock for softcover book covers is 10pt. or 12pt.
Hardcover book covers are typically 80pt. to 120pt. Note: Our hardcover books are created by mounting 100lb. paper onto 80pt. to 120pt. ESKA board.
Tab Sheets are usually 9pt or 10 pt. cover stock.
Endsheets
Endsheets of a book refer to the pages at the beginning and end of hardcover or softcover books. They are typically made of a thicker stock than the pages to fortify and add durability.
Endsheets are printed as a two-sheet spread. One side of the spread is glued down on the inside back and inside front cover of your book. The other half of the sheet becomes the first and last page of your book. These pages are typically printed with a solid colour or a pattern, providing a great place for branding and information. Endsheets can also be left blank.
TIP: Add a custom endsheet to your Journals or Planners to tell your story, highlight a cause you support or reinforce your business mantra.
Fast Fact: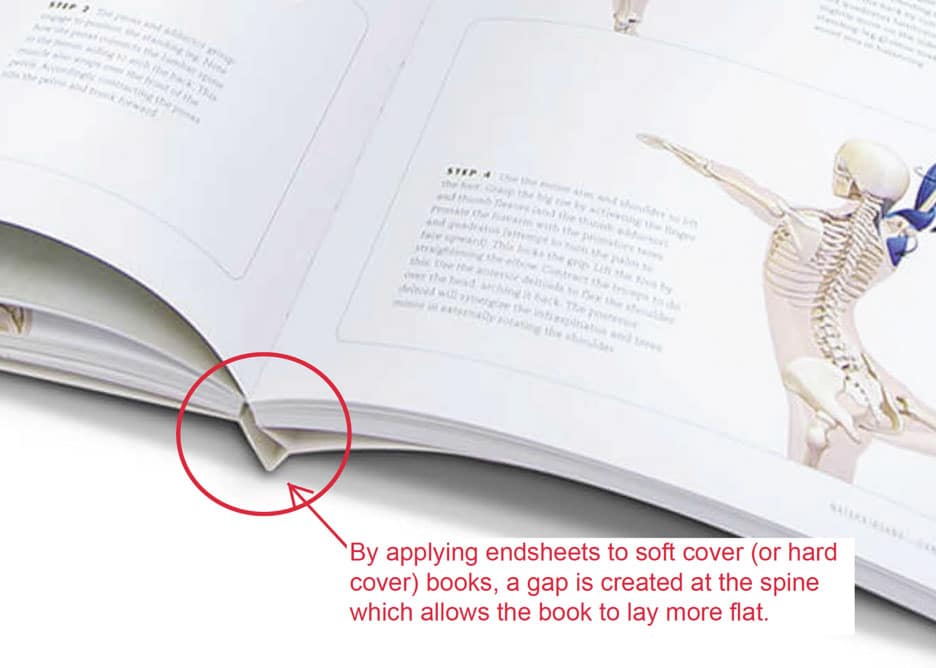 Note: For wire-o or spiral bound journals and planners, you can include a custom sheet on the inside covers. A great way to tell your story, highlight a special cause you support or reinforce your business mantra.
Board Book Paper
Board books are typically printed on 40pt. cover paper (about 1mm).
MCRL prints board books on coated paper mounted on 40pt. Eska® board.