Toddlers Pop-Up Books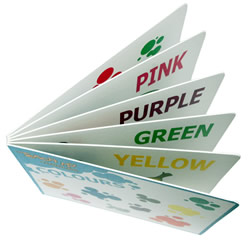 We print beautiful, non-toxic inks and materials for children's pop-up books
MCRL Overseas Printing provides numerous options to ensure that your children's pop-up books are produced with quality materials and production techniques to ensure the safety of your end users.  Select from a wide range of paper stock sizes, materials and binding options to meet your requirements.
Our competitive prices save you 30-50% as compared to domestic printing services.  With these savings you can meet your budget while printing colorful and high quality children's pop up books.
Our use of Eco-friendly printing products and top quality material result in hardcover children's books that are safe, colorful, durable and affordable.  With our hardcopy proofs and our extensive experience in printing children's books, we are confident that MCRL Overseas Printing will become your one stop printing shop.
Get a free quote on your pop-up books printing job!

Toddler Book Printing Testimonial
"My family has been working 4 years on a children's graphic novel; our very first self-published book ever. Everything about creating a book was a mystery. The book itself changed over and over again, but the worries really began when the book was finished. So many questions: how does one find a printer, the paper puzzle: weight and type, we didn't know where to begin, and are we even going to be able to afford to get it printed, and if we do, can we trust that it will be done correctly and on time? Well, MCRL Overseas Printing answered all our questions, our many many questions, with patience and understanding. When asked for sample paper, a couple of books came within a couple of days to help with our decision. The proofs came just as quickly. The books were shipped right on time and delivered to our door in packaging that kept them undamaged and in perfect condition. When our second book in this series is ready for the printer, we know just where to go.
Thank you so much, Mankit and Karen, for making this experience so easy."
Trilleen McFarlane, secretary for Ashen-Nashe Books (Puddle Pup Tails vol. 1)
Customize
Our team of printing experts will work with you to select the best materials and printing options to meet your needs.
Satisfaction Guaranteed!
Your satisfaction is guaranteed – from initial consultation through to delivery.
Experience Counts
Our experienced team is dedicated to quality and service to get your printing job done right, the FIRST time.