Custom Printed Binders
Save 30-50% on custom printed binders with MCRL Overseas Printing!
We offer professional and affordable custom binder printing and a wide selection of binders to meet your specifications. Choose from 3 ring binders, poly 3 ring binders and vinyl binders in various sizes. Let our team of printing experts assist you in selecting the best binder options for your printing job.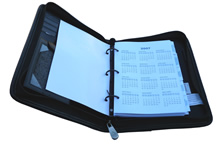 Your printed binders can be easily personalized with full colour printing and lamination. Our team of printing experts will work with you to select the most appropriate binder, size, colour options and finishes for your custom binders. To ensure that your printing order is correct the first time, you'll receive a hardcopy proof of your custom printed binder prior to printing.
Request your custom binder printing Printing quote now.
Related Products:
Presentation Binder
Promotional Calendars
Custom Printed Catalogs
MCRL Overseas Printing is your number one choice for affordable, top quality, high volume custom printed binder printing jobs that:
are completed on time
are completed on budget
result in top quality printed binders
Benefits of binder and folder printing with MCRL Overseas Printing Services:
Save Money – Our competitive pricing saves you 30-50% over domestic printing services, allowing you to produce a higher quality and more unique looking printing job.
Quality Service and Products – Our experienced team is dedicated to quality and service to get your printing job done right, the FIRST time.
Hardcopy Proofs – Know what you'll get before the print job is sent to print.
Eco-Friendly – We use environmentally responsible products without jeopardizing the quality of products produced.
Door-to-Door Delivery – Orders are sent via insured shipment, door-to-door and all freight and customs clearance are handled by us.
Related Services :
Folder printing Services, Custom Calendars Printing, Promotional Calendars Printing