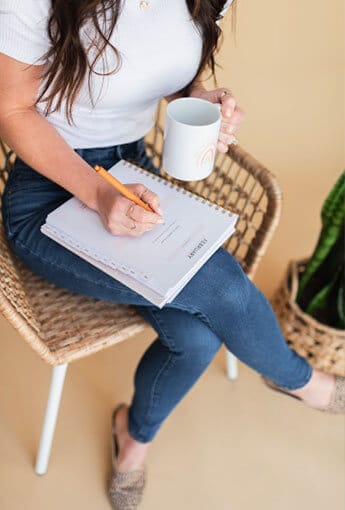 Jess Massey
Peacefully Productive Planners
HOW to OVERCOME FEELING OVERWHELMED?
The Sanity-Saving Planner
Jess Massey knows what it's like to feel overwhelmed. In 2017 she hit rock bottom mentally. She was working three jobs and finishing a second degree while trying to be a good wife and friend. She was hustling but not happy, so… rather than doing the same thing over and over and expecting a different result, she left the insanity behind.
As someone known for getting things done, Jess applied her strengths and started a business to help others. Jess's productivity strategies and tools help thousands of women peacefully pursue their dreams without sacrificing their mental health and relationships.
Jess's digital and print planners and journals, podcasts and courses help women live a peacefully productive life and get stuff done without losing their mind – or as she calls it, how to "Hustle Sanely".
MCRL hustled to get Jess's planner just right.
Here are 5 features that make Hustle Sanely's Planners smart, durable &
SOLD OUT

.
The eco-friendly cover is made from Eskaboard, a 100% recycled (??) hardback material that lays flat and stays flat
The sturdy yet elegant gold wire-o binding looks and hangs great
The paper is 80 lb (120 gsm) white paper so you can use your fav pens without worrying about bleed through!
The back inside cover pocket means you can stash loose leaf paper or sticky notes with your best ideas safely inside
14 white laminated tabs with 5 Hustle Sanely keys and months of the year printed on both sides
Jess tells us the 2021 Planner SOLD OUT fast! But don't despair more are on the way! In the meantime, check out the Hustle Sanely digital planner, podcast or courses. Be sure to download Jess's FREE 12 page workbook for hustling sanely.
Before working with MCRL, all of our planning tools were digital. When the time came to expand into the print product space, we knew we needed help since it was a whole new ballgame for us. Working with MCRL made the entire print planner process seamless, simple, and straightforward.

Thanks to MCRL, our community now has the perfect planner to help them Hustle Sanely all year long! If you are looking for a team to help bring your planner project to life, look no further – MCRL is who you want on your side!