Back to Basics is Booming
While digital devices are more critical today than ever, consumers are gravitating to pen on paper to provide a creative outlet and sense of comfort in challenging times. Retailers and entrepreneurs are responding to society's need to reflect and plan by creating beautiful, practical, one-of-a-kind Journals and Planners.
MCRL Overseas Group makes it easy for you to customize a journal or Planner that is unique to your business, wows your customers and fits your budget.
Best in Show
Journals and Planners can be personalized and stylized in so many ways, for so many purposes. Here are a few we've recently created for clients to get you inspired!
MCRL Overseas Group's experienced consultants have helped clients design over 17 types of Journals and Planners, including:
Bullet Journals
Pregnancy Journals
Dream Journals
Gratitude Journals
Daily Planners
Life Planners… and more
In this How-To Guide we'll break down the steps involved in designing your own stunning journal or Planner.
Let's Get Started

– MCRL's 6 step process
Decide on your purpose & content
Who will be using your custom Journal or Planner? How will it help them? What is unique about your notebook? Type it up, test with friends and once you've nailed it, move along to step 2.
Design your cover
– the most important feature
Covers can be plain, embellished with your brand and printed with a special message. Many of our clients design covers on linen, Kraft, ESKA or leatherette textured,
Choose the paper
Covers can be plain, embellished with your brand and printed with a special message. Many of our clients design covers on linen, Kraft, ESKA or leatherette textured, vegan-friendly material.
There are a number of factors to consider when choosing the right paper. If you are creating a Planner or journal for bulleting, then lined paper is likely preferred. Whereas blank page Journals inspire creativity and new ideas.
Here are 4 other factors to consider when choosing the right paper.
Opacity
Opacity refers to how much ink will show through on the reverse side of the paper. Opacity is determined by the weight and finish. If a piece of paper is 100% opaque, no ink will show on the reverse side.
Weight
The most common paper selected for Planners and Journals is 50lb, 65lb or 80lb paper. The thicker the paper, the more opaque it is.
Tone
White or ivory are the typical tone choices and come with different transparencies.
Finishes
A paper's finish refers to the surface of the paper. Your Journal or Planner can have glossy, matte, cockle, laid or a smooth feel with lined or unlined pages. Most clients choose a bond paper with matte finish for their Journals and text paper with matte finish for their Planners.
Pick your binding
– two main types of binding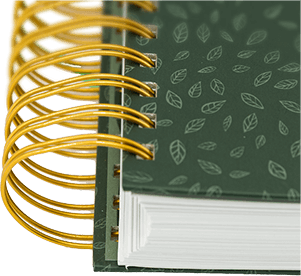 Wire-O Binding is also known as Twin Loop, Double-Loop, Double-O, Duo-Wire, or simply Wire Binding. It is sophisticated and professional-looking and comes in metallic and custom PMS (Pantone) codes.
Wire Binding Diameter Options
Smyth-sewn binding is a method of book binding where groups of folded pages are stitched together using binder thread. Smyth-sewn binding is high quality and can stand years of wear and tear. This binding method is ideal for sketchbooks, Planners and Journals since the pages lie flat.
Consider embellishments
Embellishments like elastic bands, corners and ribbon are personal touches that will differentiate your journal and Planner.
Elastic bands are used as a stylish embellishment and a way to keep loose notes safe and secure. Elastic bands can match the cover or be an accent color. Elastic band diameter options are:
6 Millimeters (1/4")
9 Millimeters (11/32")
15 Millimeters (19/32")
20 Millimeters (25/32")
Click image to enlarge
Click image to enlarge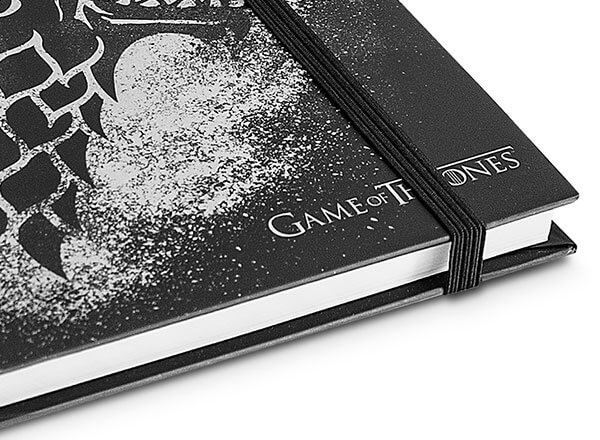 Click image to enlarge
Metal corners add an elegance and additional durability to your Journal or Planner. MCRL offers various styles & colors in both shiny and matte finishes. Check our website.
Ribbon can be satin, grosgrain or novelty and comes in an almost limitless number of colors to match your brand palette.
Decide on Packaging
If your custom Journals or Planners are being designed as gifts, you may want to consider unique packaging to enhance the presentation and perceived value. MCRL offers slip cases, two-piece boxes and other high impact packaging to further differentiate your Journal or Planner.
Client Story
Here's what you can expect from us
MCRL had the honor of working with Michael Anthony on his Courageous Life® Planning System of Journals. Michael had a clear vision and our team was committed to making sure we delivered it perfectly.
Michael designed the Courageous Life® Planning System to help people think about and prioritize their short and long-term goals. Michael's Journals are 100% custom. Every page, feature and focal element was meticulously drafted, proofed and reviewed. This process involved many questions, calls, emails, edits and bound proofs.
MCRL took great care in designing, printing and shipping Michael's Courageous Life® Planning System so that it reflects Michael's professionalism, impresses his customers and inspires action (not to mention sales).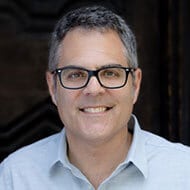 Simply THE BEST! From start to finish, the MCRL team was outstanding. They were patient, courteous, professional, timely, and produced results that met or exceeded our expectations time and time again. As a published author, I've interacted with many editors and literary agents. I can tell you without hesitation that MCRL is the right choice!
Need help ideating?
We know how important touch and feel are so MCRL now offers a Samples Kit. This handy kit is customized with small samples of the materials you are considering for your journal or Planner project.
Once you are ready, our experienced consultants will work with you to design a well-constructed, unique Journal/Planner that will become gifts your customers want for themselves…and friends.
Contact us!